KIZNAIVER Complete Blu-ray Set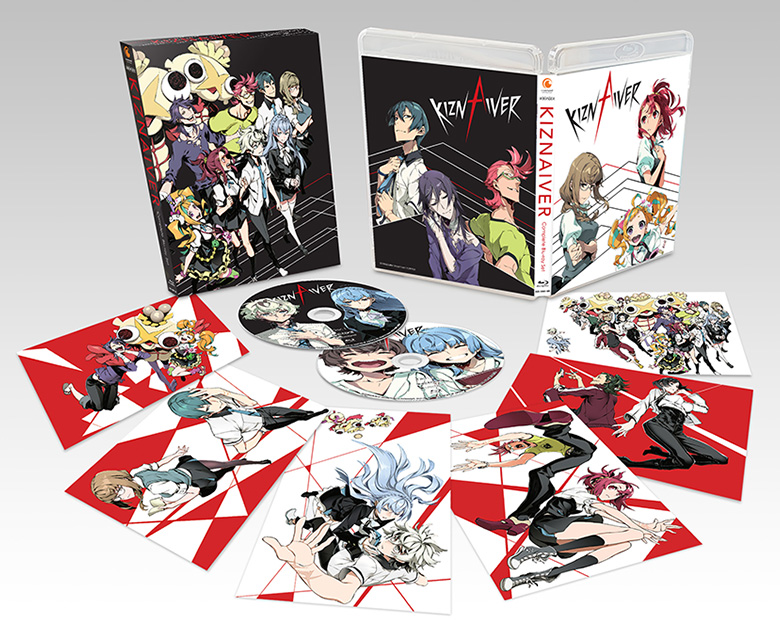 TRAILER
Product Announcement Trailer
Release Date

12/26/2017
Price

SRP: $149.98
Retail Price: $119.98
Disc Spec

Spoken Languages: Japanese, English
Subtitle: English
Aspect Ratio: 16:9 Widescreen
Episodes: 1-12
Number of Disc: 2 Blu-ray Discs
Total Run Time: Approx. 300 min.
Rating: 13 UP
Bonus Contents

■ Textless Opening
■ Textless Ending
Bonus Materials & Special Package

■ Collectible Cards Illustration by Shirow Miwa (Original Character Designer)
■ Box Illustration by Shirow Miwa (Original Character Designer)
■ Blu-ray Case Illustration by Mai Yoneyama (Character Designer)
Description

An original TV anime series by acclaimed animation studio TRIGGER (Kill la Kill) and the renowned writer Mari Okada (Anohana: The Flower We Saw That Day, The Anthem of the Heart)
The story is set in Sugomori-city, built in a reclaimed land, which was once prosperous as a futuristic city.
Katsuhira Agata, a high school boy who is living in the city, has a strange body which can feel no pain at all and he doesn't know why. Before summer vacation, by the guidance of a mysterious girl named Noriko Sonozaki, he is chosen as a member of "Kiznaiver," a group of people who share pain. Then he finds his classmates who are also connected as "Kiznaiver," however, they originally belong to different groups that never got along.
Sonozaki says, "This is an experiment to guide the world filled with wars to peace." Following her words, they have to face various trials.
One summer story of boys and girls who have to share each other's wounds begins.
Cast


(Japanese/English)

Katsuhira Agata: YUKI KAJI / RYLAN STRACHAN
Noriko Sonozaki: HIBIKU YAMAMURA / NATASHA STRICKEY
Chidori Takashiro: YUKA TERASAKI / CAITLYNNE MEDREK
Hajime Tenga: TOMOAKI MAENO / LUCAS GILBERTSON
Tsugihito Yuta: NOBUNAGA SHIMAZAKI / SCOTT ROBERTS
Honoka Maki: RINA SATOH / LORI BACHYNSKI
Nico Niyama: MISAKI KUNO / KATRINA SALISBURY
Yoshiharu Hisomu: KOUTAROU NISHIYAMA / HANS WACKERSHAUSER
Kazunao Yamada: JUNICHI SUWABE / MICHAEL ADAMTHWAITE
Mutsumi Urushibara: MIE SONOZAKI / JENNIFER CAMERON
Staff

Original Story: TRIGGER / MARI OKADA
Director: HIROSHI KOBAYASHI
Series Composition / Screenplay: MARI OKADA
Original Character Design: SHIROW MIWA
Character Design: MAI YONEYAMA
Animation Production: TRIGGER


English Version Production By: CRUNCHYROLL
In Association With: OCEAN MEDIA INC.
English Voice Director: KARL WILLEMS
English Adaptation Script: MARK MACDONALD
Blu-ray Production: ANIPLEX OF AMERICA INC.